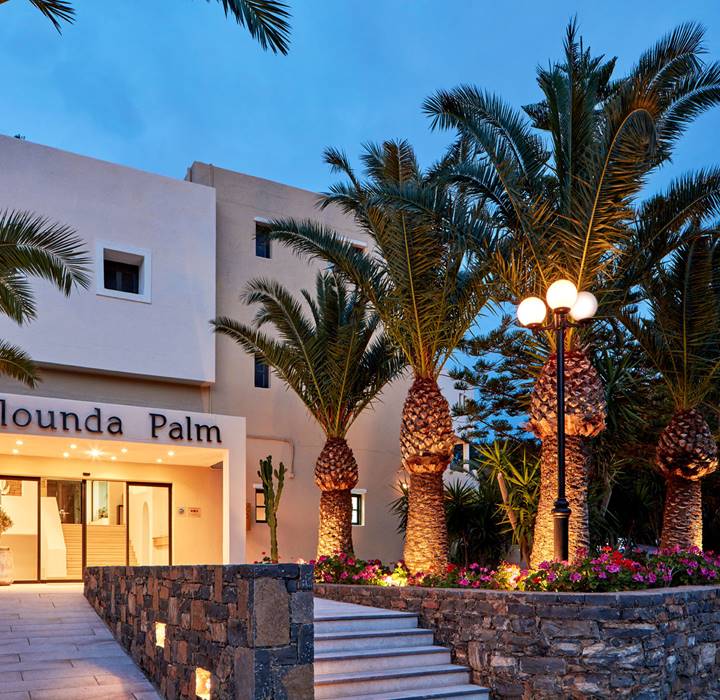 Our story
Elounda Palm Hotel & Suites was born from the passion of two people who wanted to bring together Cretan hospitality and the joy of meeting new people under one roof. These people are Nikos & Eni, a couple who loves life and wants to share that love with the people around them. The Hotel is a small family-owned boutique property that has been built and designed with a Cretan chic and minimal concept in mind, surrounded by a unique environment with over 150 Palm tree lush gardens, overlooking the bay of the world-class Elounda resort and its historic island of Spinalonga, nominated to become part of the Unesco world heritage list. An ideal retreat for couples and small family escapes.
The concept of the hotel is to provide a friendly and professional approach to your holidays while at the same time strive to meet your needs for a relaxed and stress-free experience. Our motto is "come as a guest and leave as a friend".
Recently renovated, the hotel is now run by the younger generation of the family, who are trying to give a fresh and more modern touch to the establishment. Elounda Palm Hotel & Suites features the Mellow Bar by the pool focusing on creative 'Cretan' spirit and herb mixes, Dacos Restaurant, new restaurant addition by the pool focusing on quality gastronomy. In 2019, we introduced 14 brand-new Infinity suites with very large private pools and a wellness center - gym & spa area.
We welcome you to the Cretan way of life!